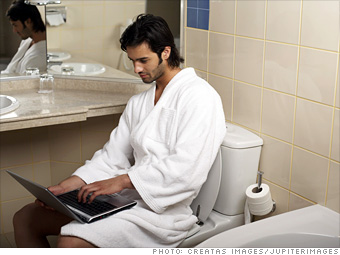 Or at least wait until the conference call is over to flush.
"My feeling was, `Oh! Tell me that is not what I think it is!'" remembers Dan Chmielewski, owner of Orange County, Calif.-based Madison Alexander PR.
Chmielewski was on a call with several high-level people and an engineer, who was working remotely. At the very end of the conference call, during a break in the conversation, they all heard a toilet flush.
"There was a little pregnant pause," says Chmielewski, as they realized what the engineer had done.
The next time Chmielewski had a conference call with people from that fated phoner, one of the non-flushers teased, "I have about 45 min for this call -- let's see what we can flush out here."