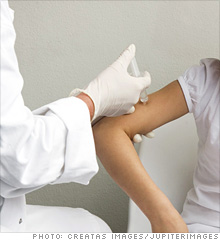 Health care providers say insurers don't reimburse them enough for essential vaccinations, so they're not offering them
.
NEW YORK (CNNMoney.com) -- Parents who bring their kids to Dr. G. Andrew McIntosh for the chicken pox vaccine are out of luck.
The family physician, who has a solo practice in Uniontown, Ohio, doesn't offer that shot because he can't afford it. Most insurers won't sufficiently cover the cost.
"It doesn't do me any good. I am losing money on [them]," he said. The chicken pox vaccine runs about $115, but insurers only cover between $68 to $83 of that.
McIntosh has also cut back on a handful of other critical childhood vaccines for the same reason -- including the measles, mumps and rubella, known as the MMR vaccine.
It costs him about $58 to buy an MMR shot, he said, while insurers pay about about $40.
So McIntosh keeps a lot less of the MMR on hand. If a patient needs the shot and he doesn't have it, he sends them to a nearby public health clinic.
"I'm not happy to do that," he said. "The clinic is far, the service isn't great and my patients aren't happy to go there."
Although he says he "feels compelled" to take care of people, he adds, "I can't save the world and pay for my staff," he said. "As we say, 'no margin, no mission.'"
"I've lost a fair number of kids [at the practice] because I've had to send them elsewhere for their shots," he said.
Alarming numbers
It's not clear exactly how widespread vaccine cutbacks are, but in a recent industry survey, 5% of pediatricians and 11% of physicians indicated that they're seriously considering no longer offering immunizations. Currently there are about 350,000 pediatricians and family physicians in the U.S.
"These are fantastically alarming numbers," said Dr. Richard Lander, a Livingston N.J.-based pediatrician who chairs a committee on administration and practices at the American Academy of Pediatricians. (AAP)
"It's an example of how health care is being driven by managed care in the United States," Lander said.
Doctors have to absorb any costs that insurance doesn't cover because in most states insurance contracts prohibit providers from charging patients the difference.
Dr. Jim King, a family physician in Selmer, Tenn. is another medical professional who is dropping expensive vaccines because of "insufficient" reimbursement from insurers.
"The vaccine for shingles is fairly expensive, about $75 to $150 per vaccine," said King, who is also board chair of the American Academy of Family Physicians.
"The profit margin on it is very small, so we're not giving that. If we lose money on one, we need to administer nine to break even," he said. Like McIntosh, doctors at King's practice are referring patients to public clinics for shots that they no longer administer.
The economics work a little better in the case of influenza vaccines, which can cost between $7 to about $33 per vaccine, according to the Center for Medicare and Medicaid Services. So King is stocking up on the flu vaccine.
The threat to public health
Public health experts are particularly worried about doctors dropping vaccinations.
Dr. Lance Rodewald, head of the Immunization Services Division at the Centers for Disease Control and Prevention, points to the consequences this trend has had on public health in the past.
"Between 1989 to 1991, a number of doctors stopped providing vaccinations to children because of financing issues," he said.
Instead, doctors referred patients to public health clinics for shots like the MMR. But many parents failed to follow up on those shots, Rodewald said, and their toddlers were never immunized.
The result: The situation led to 55,000 cases of measles, 11,000 hospitalizations and 123 toddler deaths.
The CDC found that more than half of the children who had contracted the measles had not been vaccinated, even though many of them had seen a health care provider.
"This is why we are taking attitudes of doctors very seriously when they say they are delaying buying vaccines pending insurance coverage, or that they could stop vaccinating because of declining revenues," Rodewald said.
The CDC maintains that vaccination rates for most child and adolescent vaccines are currently about 80% in the United States.
Hidden costs
Vaccines of all kinds represent the largest operating expense for some doctors, according to the AAP.
The problem: Most insurers pay providers just the base cost of the vaccine. So if it costs $120 to buy a particular vaccine, insurance would pay back $120. But Lander points out that there are a lot more expenses that go into providing a vaccine, including the refrigeration, electricity and insurance required to store the shots. On average, doctors keep $100,000 to $150,000 worth of vaccines on hand each year.
The AAP estimates that the actual cost to providers to acquire vaccines could be 17% to 28% above the price of the vaccine itself.
"This is America. Running a private practice is a business," said Lander. "It's not $120 but closer to $140 for me to break even," said Lander.
The insurance industry acknowledged that "there is always a natural tension between health plans and providers about payment," said Susan Pisano, spokeswoman for America's Health Insurance Plans (AHIP).
Then there's the cost to doctors of the office visit to administer a shot. Lander maintains that a majority of insurers are inadequately paying doctors for this service, too.
"When a patient comes to my practice for shots, a nurse will explain what shots will be given, hand out pamphlets and complete paperwork," he said.
Reimbursements for administration fees range anywhere between 60% to 100% of the cost depending on a doctor's contract with the insurer.
"Managed care had decreased [overall] access to health care because of poor pay to providers," Lander said.
McIntosh agreed. "I enjoy seeing kids. It's joyful to see a baby and watch them grow up healthy," McIntosh said. "But I am giving that up because I can't give them the shots they need."
He said more of his patients now are the elderly. "It makes me sad how the dynamics of my practice have changed," he said.