Silver has outperformed the yellow metal in recent months - and the silver spike might have more to do with a global economic recovery than inflation fears.
NEW YORK (CNNMoney.com) -- All that glitters isn't necessarily gold. If you want a really hot metal, check out silver.
Yeah, the price of gold
rose above $1,000 an ounce
Tuesday. And Gold is now up more than 5% in the past month and nearly 15% this year. But silver has done even better as of late.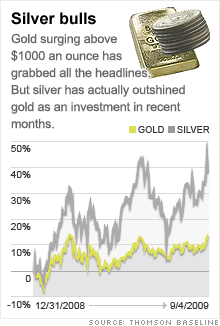 Silver prices hit a 13-month high of about $16.72 an ounce Tuesday and silver prices are now up about 40% so far this year. Silver doesn't get as much attention for obvious reasons. "Gold above $1,000" is a sexier headline than "Silver surges past $16."
But the spike in silver is worth noting since it might be a sign that a global economic recovery could actually be for real.
Sure, one reason that silver is up is due to inflation fears. That's probably the main reason that gold has skyrocketed.
Some investors are worrying about the impact that government spending will have on the dollar and are subsequently buying gold, other metals and oil -- i.e. tangible assets as opposed to paper currency -- as a safe haven.
The dollar was hovering around a year-to-date low against a basket of global currencies Tuesday. So that helped lead silver and other commodities higher as well.
"Silver, gold and crude oil are all predominantly priced in U.S. dollars. So it's a natural reflex for them to go up in the short-term when the dollar is weak," said John Kicklighter, a currency strategist with CFD Trading, a New York-based research firm owned by foreign exchange broker FXCM.
But while gold has relatively few uses for manufacturers (besides looking pretty for jewelry), silver, much like copper, is a component of a variety of industrial products.
Silver is a component for products ranging from batteries and semiconductors to solar panels and water purification systems. That means that there are more than just inflation concerns driving up the price of silver.
"There is such a high demand for industrial use of silver. So a lot of companies, particularly in Asia, are gobbling it up in order to get their economies growing again," said David Beahm, vice president of economic research with Blanchard & Co., a New Orleans-based investing firm that specializes in gold and other precious metals.
Beahm said that silver's spike is a recovery from the depressed levels of late last year when investors were panicking about the state of the economy in the wake of the collapse of Lehman Brothers. Silver dipped below $9 an ounce last October.
"The real reason silver is going up now is because it took such a beating during the fears of deflation," Beahm said.
In that respect, the surge in silver prices is probably more similar to the rally in other assets that had been priced for financial Armageddon, such as bank stocks and airline stocks.
For the average investor, Beahm said that silver might make more sense to buy than gold since silver is more affordable. That said, he thinks gold will outperform silver over the long run because he believes that inflation and weak dollar fears should persist.
There are other ways to invest in silver without buying the physical metal though. The iShares Silver Trust (
SLV
) is an exchange-traded fund that is designed to track the price of silver. Several mining companies with a heavy emphasis on silver, including Hecla Mining (
HL
), Silver Wheaton (
SLW
) and Silver Standard Resources (
SSRI
), have piggybacked silver's rise and performed extremely well in recent months.
Still, even for investors reluctant to add precious metals to their portfolio, the price of silver and gold bears watching.
Kicklighter said investors seeking the proverbial silver lining in the economic clouds (Sorry. I couldn't resist) should pay more attention to silver and other metals as a possible proxy for a recovery.
"Longer-term there should be a divergence between gold and other commodities. Gold is going to be more responsive to investor sentiment and risk appetites," he said. "If you're looking for a forecast of global improvement and growth overall, industrial metals like silver are going to move more on demand."